Usually I like to see before and after pictures, but in this case I would rather forget what our second bedroom looked like. So, I'll just give you a mental image...
a room full of boxes...
dug through constantly in desperation of finding "the thing we are missing"(i.e. Cosby Show box set, can-opener (b/c you know we don't have a kitchen to put that in), or what about the time I
wanted
had to have that certain pair of shoes...)
So, the room went from a room full of boxes to sheer chaos. Mainly shoe chaos...
The main problem: I had no idea where to put them all. I searched the web for tips about how to store shoes in small spaces, contraptions to buy or make, and came across some pretty interesting concepts, some of which made me a little bit envious...
This was made from pipes! See more about this
here
.
I will use this
idea
one day... love it It is placed at "the landing strip" right when you walk in the door. The river rocks allow any water to drain off from the shoes into the tray, and not onto your floor.
And of course this was considered: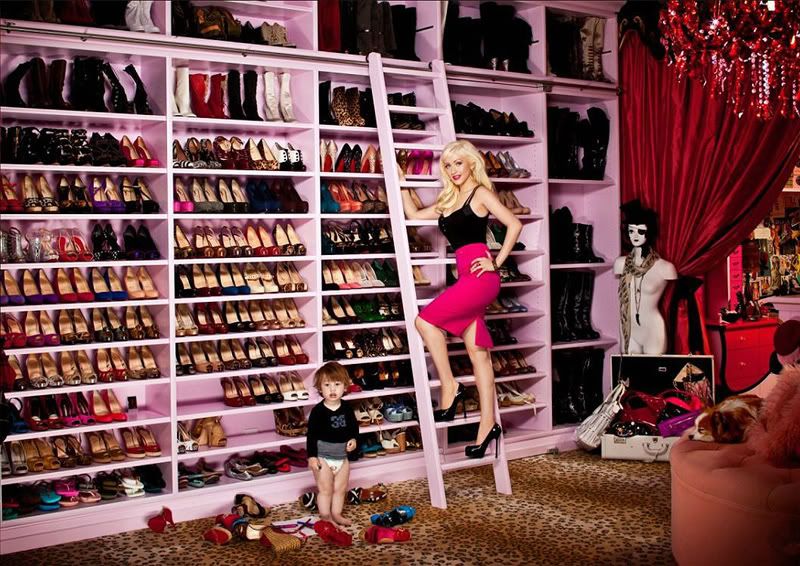 I can dream, right?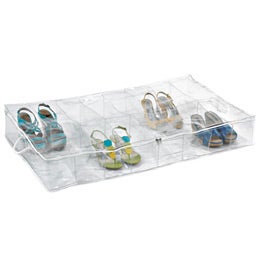 I even contemplated making a mad dash to
The Container Store
to get one of these babies to go under the bed. Until I read this from one of the articles:
your system should fit you; you shouldn't be struggling to use a product.
I totally agree.
So here's what I did... with what I already had on hand.
I took one of the tips I read online for small spaces... only keep the shoes you use the most often in your closet (since you don't have much space in there anyway). So, the picture above shows a canvas over the door rack with my shoes on the top three rows, and Ryan's shoes on the bottom three rows. Shared space. :)
and the rest of the gang... none of Ryan's shoes hanging around on that door using another over-the-door storage solution...which leads to another tip.
Purge. Well, I did this... somewhat. I threw about 2 pairs of Ryan's shoes and 4 pairs of my shoes into the bin to the right... all that stuff will be going to a Goodwill soon.
Yeah.. now that I take a second look at this picture... I'm not so good at purging. :)
And what about boots you ask.... too big to be put in a slinky little over door rack.
Well, since most of those shoes are winter shoes, I decided to go with the under the bed storage, and no, I didn't make that run to The Container Store! Instead, I found a clear garmet bag to act in the same way.
I think this just might work!
How do you store your shoes?